HP 24" Z24n - monitor IPS WXGA(1920x1200px),16:10,7ms,250 cd,HDMI, DVI-D,2xDisplayPort, MiniDP, USB, Zár.3roky Trieda A Repasovaný monitor
94,00€
330,00€
Bez DPH:

78,33€
10 ks a viac - 80,00€

Výrobca:
Hewlett Packard
Model:
HP Z24n Repasovaný monitor Trieda A Záruka 3roky (2roky na IČO)
Dostupnosť:
15
Kvalitný renovovaný HP monitor s bezrámovým IPS displejom. Pôvodná cena 309€ s DPH. Teraz v akcii len 94€ s DPH a zárukou 3roky. POZOR káble VGA,HDMI a DisplayPort nie sú súčasťou dodávky. Je možné si ich doobjednať v dostupných možnostiach.
Získajte vynikajúcu presnosť obrazu, mimoriadnej možnosti nastavenia a zásadné spoľahlivosť optimalizovanú pre prostredie obchodov. Displej HP Z24n s uhlopriečkou 61 cm (24 '') IPS a rozlíšením 1920 x 1200.
Privítajte svojho nového tímového hráča s inteligentným napájaním a IPS
Znižujte spotrebu energie a získajte 99% pokrytia farebných priestorov s RGB z panelových monitorov IPS. Urýchlite tímovej preskúmavanie a spoločné rozhodovanie s extra širokými zobrazovacími uhlami, vďaka ktorým majú všetci rovnaký vynikajúci prehľad.
Vďaka 61cm (24 '') diagonálnemu displeji s úzkymi hranami a rozlíšením 1920 x 1200, ktorý poskytuje 120 riadkov dát navyše a 2.3M pixelov, neprehliadnete jediný úžasný detail.
Užite si ostré jasné prezentácie od jasu 300 cd / m2, kontrastného pomeru 1000: 1, dynamického kontrastného pomeru 5M: 1 a času odozvy 8 ms.
Vylepšite tmavé oblasti svojich obrázkov na obrazovke a pozrite sa na tie najlepšie detaily ešte podrobnejšie vďaka integrovanej technológii vyrovnávanie čierne.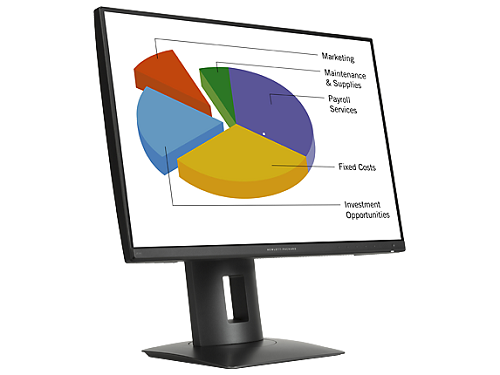 Navrhnuté pre komfort
Nájdite pohodlnejšie polohu, vďaka možnosti upraviť si nastaviť sklon, otočenie alebo výšku až 150 mm. Otočný kĺb vám navyše dovolia nastaviť prehliadanie na výšku alebo na šírku.
Ľahko prístupná konektivita na dosah ruky
Užite si konektivitu s novými i zastaranými možnosťami z radu vstupov, ktoré zahŕňajú 3xDisplayPort, DVI, HDMI a integrovaný rozbočovač USB.
Majte pod kontrolou váš dopad na životné prostredie
Znižujte spotrebu energie a pomôžte znižovať náklady vďaka inteligentnému dizajnu s nízkou spotrebou as kvalifikáciami ENERGY STAR a EPEAT Gold.
61cm (24 '') displej HP Z24n IPS ponúka aj podsvietenie displeja bez ortuti, nízkohalogenový dizajn a sklo neobsahuje arzén.
Zoznámte sa s novým najlepším priateľom svojho monitoru
Prispôsobte svoju pracovnú plochu pomocou oddielov obrazovky s možnosťou zmeny veľkosti. Pracujte s dokumentmi, tabuľkami a e-maily v samostatných oblastiach obrazovky súčasne - to všetko vďaka softvéru HP Display Assistant.
Prezerajte si otvorené aplikácie na všetkých pripojených displejoch s rozšíreným panelom nástrojov. Pomôžte zabrániť krádeži pomocou užívateľsky nastaviteľného kódu PIN, ktorý deaktivuje monitor, ak dôjde k jeho neoprávnenému odpojeniu od počítača.
Type

24-in IPS with LED backlight

Viewable image area (diagonal)

61.13 cm (24 in) widescreen; diagonally measured

Panel active area (W × H)

51.84 x 32.4 cm (20.41 × 12.75 in)

Resolution

1920 x 1200 at 60 Hz

Aspect ratio

16:10

Viewing angle (typical)

Up to 178° horizontal/178° vertical

Brightness

Contrast ratio (typical)

1000:1 Static

5,000,000:1 Dynamic (DCR)
Plug and play

Yes

Input/output connectors

DVI-Dual Link - 1

MHL 2.01/HDMI 1.4 - 1

DisplayPort 1.2 - 1

Mini-DisplayPort - 1

DisplayPort 1.2 out HDCP support on all inputs - 1

USB

4 USB 3.0 [4 downstream (one fast charging), 1 upstream]

Audio

Audio output 3.5 mm - 1
Napísať recenziu
Poznámka:

HTML nie je preložené!